Basic Rules for New Parents on Flying With Kids!
A few years ago, I took my kids to see their grandparents. It was our first time flying as a family. The whole experience made me realize that almost everything I had previously known about traveling was wrong.
Flying with a baby, toddler or child is not easy. You might feel stressed and anxious, especially if you are flying for the first time as a new parent. I was too! Flying to Florida from Phoenix with my kids around Christmas was highly nerve-wracking. Things could have been worse, though, because we ended up having a very smooth flight. I will cover a few tips that helped us each time we flew with kids.
Check the Airline Rules Before Departure
Before you board the plane, double-check to see whether you're aware of the airline's regulations and standard practices so that you don't show up at the airport unprepared. Here are a few things to consider for family vacations:
Bassinet Policy: Some airlines allow you to reserve a bassinet well in advance for a fee. Others will provide one free of charge, but only if available.
Stroller Policy: Most airlines allow you to gate-check your stroller for free. That means you can leave it at the boarding gate and pick it up as you exit the plane.
Car seat policy: Airlines have different policies on handling car seats. Some allow you to bring your car seat on the plane and check it as baggage, while others require that you place the car seat in the overhead bin or have it checked as baggage.
Check-in Policies: Different airlines have different policies for checking in online, at the airport kiosk, or at the counter. Make sure you know.
Carry-on Allowance: Some airlines allow each passenger to carry one personal item (usually a purse or diaper bag) plus one small carry-on like a backpack or briefcase. Check with your airline to see what's allowed.
Ticketing: If you're traveling with an infant, you'll need to purchase a ticket for the baby. Infants younger than 2 years old are typically free if they sit on an adult's lap during the flight, but keep in mind that some airlines do not offer this service.
Seat assignment: Check whether or not you can choose your seat on the plane. Most airlines assign seats on their flights, but some will allow you to pay for a seat assignment at check-in or on the day of departure.
Food allowance: If you are traveling with an infant, likely, they won't eat anything besides breast milk or formula during your flight.
ALWAYS call the airline to check your baby's age and weight restrictions for flying in-cabin. Flying is not only stressful but costly, so you don't want to find out that your child cannot fly during check-in! I have also found that some airlines are more lenient than others, so it's worth calling around for both you and your husband to see what airline works best for you.
And don't forget about TSA rules, either. I am writing this in the middle of the COVID-19 pandemic, and regulations can change daily. So make sure you check the TSA website for up-to-date rules on what items are allowed in your carry-on and checked baggage.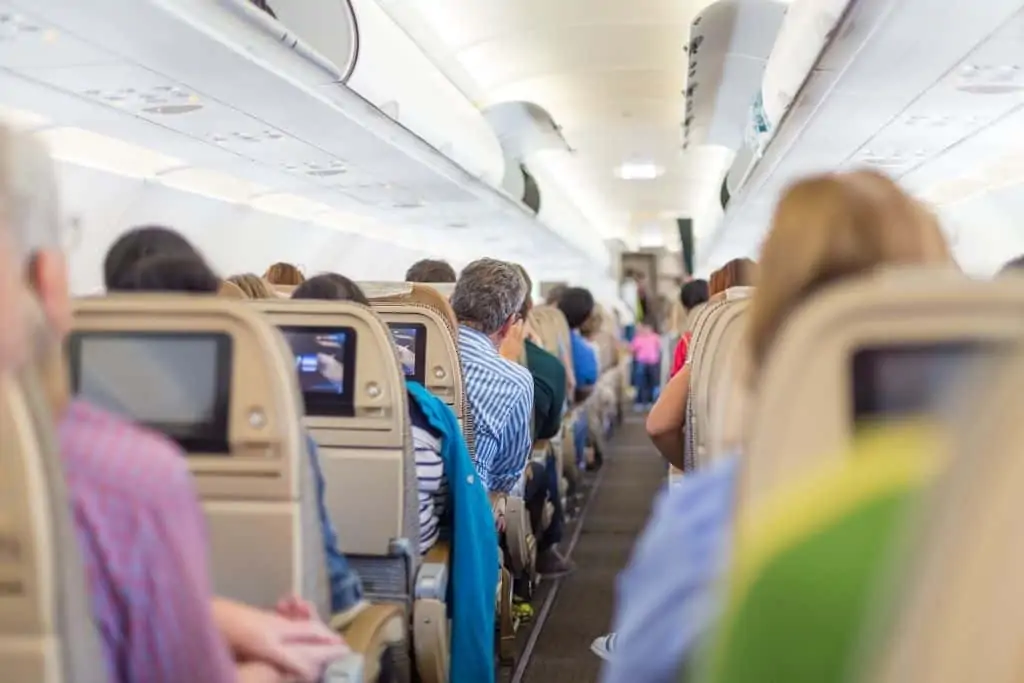 Doble-Check Your Seat Reservations
This is an important one since seats are generally assigned by your airline. You'll need to check-in online or at the airport counter to double-check your seat assignment, especially if you've made changes to your flight reservation since you first chose seats.
Nowadays, rules can be changed without notice, so even if you book your flight way ahead of time, it's always a good idea to call your airline in advance or check the website to ensure that your seat assignments have not changed.
Another excellent idea is to check in early, either online or at the airport, to improve your chances of receiving the seats you desire. Right now, you can check-in 24 hours before departure, but again, please call and double-check before your flight.
Parents with more than one child might consider requesting bulkhead seats since the area in front of them is usually cleared out to make room for larger strollers or other bulky items. Also, it's best to be seated near the front of the plane if possible, so you can quickly get off the plane with your children.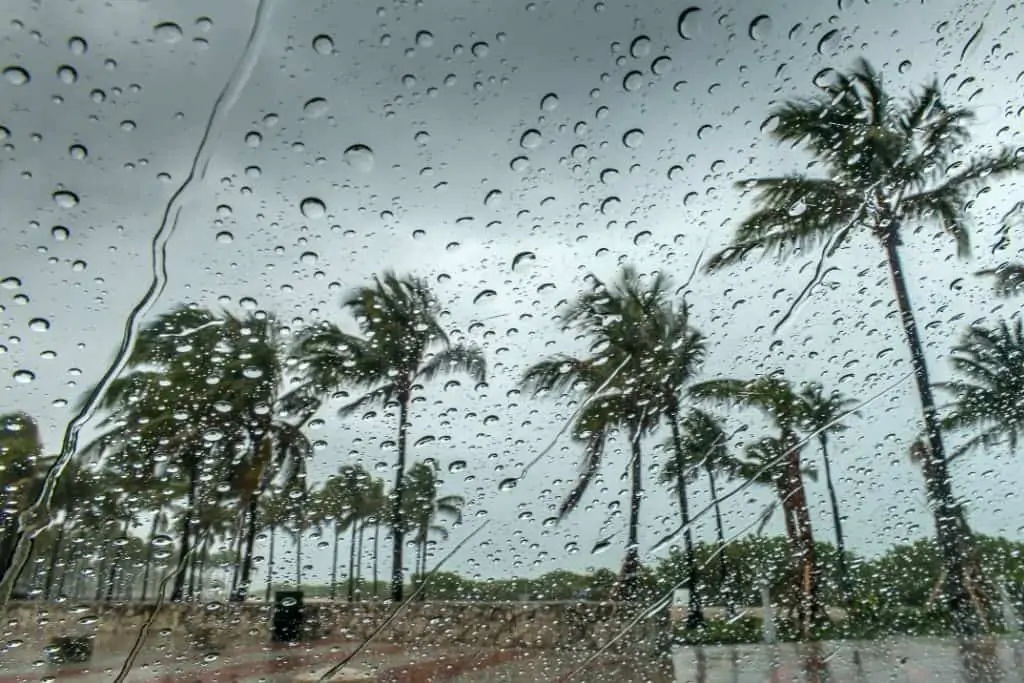 Check the Weather in Advance for Your Destination
I have fallen into this trap several times. When you prepare for a trip with kids, you get so caught up in all the little things that you forget the important ones. Weather is definitely one of those essential items.
I'm not saying that you should cancel your trip if the forecast calls for rain, but it is something to consider when packing. You'll definitely want to pack heavier clothes and shoes if you're going somewhere cold, and vice versa.
If you have connections, especially if they are long, you'll also want to check the weather at your layover airport(s) to make sure that you're not packing for a completely different climate.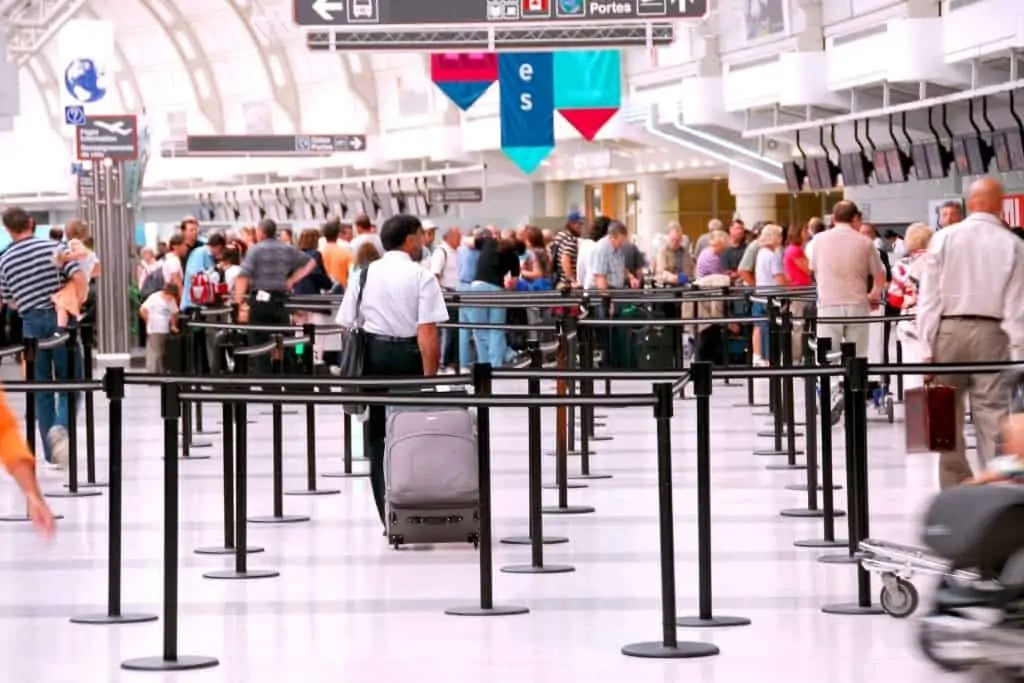 Be Prepared for TSA Delays
At the moment, I'm writing it there are vast and unpredictable delays due to the COVID-19 situation. But even during regular times, airport security can be a hassle, especially with children. Especially with children!
Make sure you have everything you need before getting in line for TSA check-in–especially diapers and wipes if your child is still in diapers. You might also want to bring an extra outfit or two just in case of any accidents.
Even with my enormous travel experience, I always check the latest changes on the TSA website. Because you just never know what might happen. Don't rely on my words regarding the airport rules; CHECK THE TSA WEBSITE!
Conclusion
I can't say that these are the only things you'll need to think about when flying with children, but they are definitely a good starting point. Don't trust social media, rumors, or friends for your travel information. Always go straight to the source! The TSA website is a great place to start, and your airline's website is also a valuable resource. And as always, it's best to call your airline and check for updated rules and regulations before your flight.
Wishing you all safe and happy travels!