Best Hotel Hacks for Staying With Kids
Why do you need any advice on hotel accommodations? That's what I thought, too, until I had a family and kids. I would have been very grateful if someone had told me something like that a few years ago.
Without any further ado, here are a few hotel hacks for families:
Preparation Is the Key to Success
It's not a hack but a general rule. There are no such things as a last-minute trip for families with kids. Pre-plan everything: the route, the list of places to visit, and what you will do there – and also pack every single thing that you might need.
But, what you should do for sure is to call the hotel and let them know in advance that you'll be coming with the kids. This will help them prepare everything in advance, from cribs and high chairs to extra towels and pillows.
Trust me, reputable hotels usually know better what to expect from families with kids and are always happy to help. They can even advise the best places to visit and things to do with children in the area.
What Should I Bring to a Hotel With a Baby?
If you are traveling with a baby, pack diapers (and zip-lock bags!) and wipes, formula or milk (if you're not breastfeeding), clothes changes, pacifiers, teething rings, and a favorite toy or blanket. Depending on how old your child is, you might also want to bring an entertainment device such as an iPad or Kindle.
The travel itself is stressful for kids, so try to minimize it for them as a rule of thumb. If your child is old enough, ask them what they would like to bring in their carry-on bag.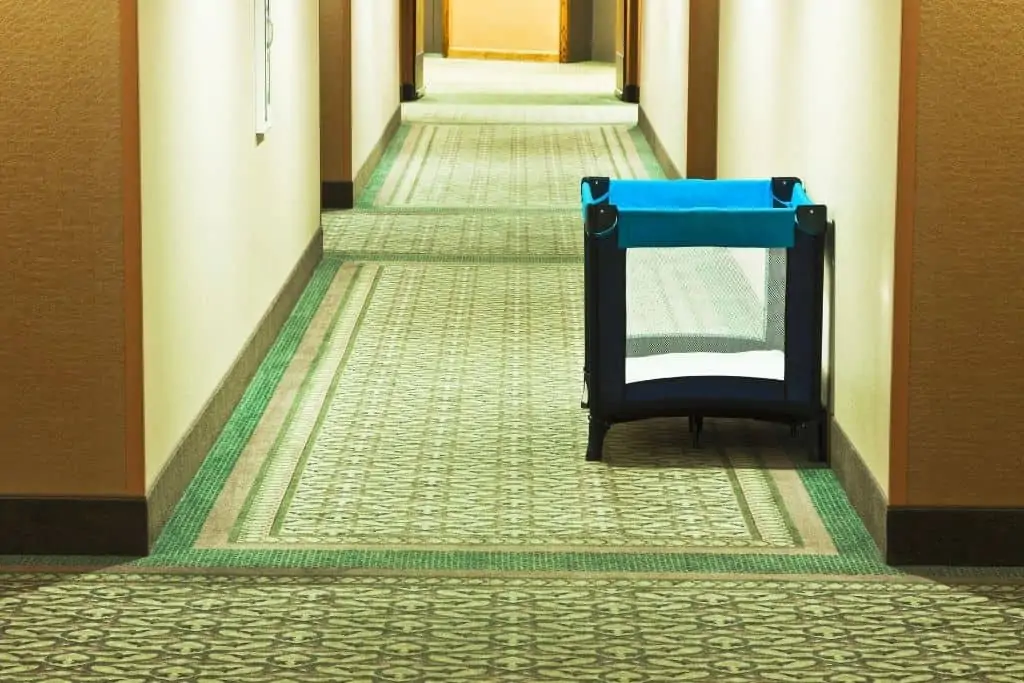 Do Hotels Provide Cribs for Babies?
If you're staying in a hotel with an onsite restaurant, they usually have high chairs and cribs. Otherwise, contact the hotel's staff and let them know your child's age and needs. They will either provide you with what you need or point at a hotel nearby that can accommodate such requests.
How Is a Hotel Bed Different from a Home One?
Hotel cribs are usually smaller than the cribs that you have at home, so don't expect your baby to sleep as soundly as they do in their own bed. Unfortunately, hotel cribs aren't interchangeable with home cribs, so you might have to make some adjustments.
If your child is used to sleeping in a particular position, it might help if you try to sleep in the same way. You can also bring a travel crib if you're really worried about your baby's sleep.
How Old Can You Leave a Child in a Hotel?
The answer to this question really depends on the hotel and your child's age. Unfortunately, there are no universal rules, so always contact the hotel staff before making any arrangements.
Typically, hotels do not allow anybody under 18 to stay alone, and I would also discourage it. Be sure to bring your child's ID with you just in case the hotel asks for it.
Maintain a Routine for Kids While on Vacation
Trying to stick to your child's usual routine as much as possible will help them feel more comfortable and relaxed while on vacation. This means waking up and going to bed simultaneously, eating meals at scheduled times, and bringing along their favorite toys and clothes.
Keeping your child on a schedule will also help you avoid potential meltdowns, which can easily ruin your vacation.
But be flexible and patient, since vacations are not always perfect and sometimes things just don't go as planned. If your child is tired or doesn't want to do something that you had planned, take a time out and regroup later. It's a vacation, after all!
Make It Safe for Your Kids
Hotel rooms generally are not suited for kids' safety. All these sharp edges and furniture can easily lead to accidents. So, be sure to childproof your hotel room as much as possible.
There is no need to bring along cabinet and drawer locks, outlet covers, and doorknob covers. However, this is where the duct tape comes in handy!
If you are traveling with a baby or small child, always let the hotel staff know so they can make appropriate arrangements.
Always keep an eye on them and never leave them alone, even for a second.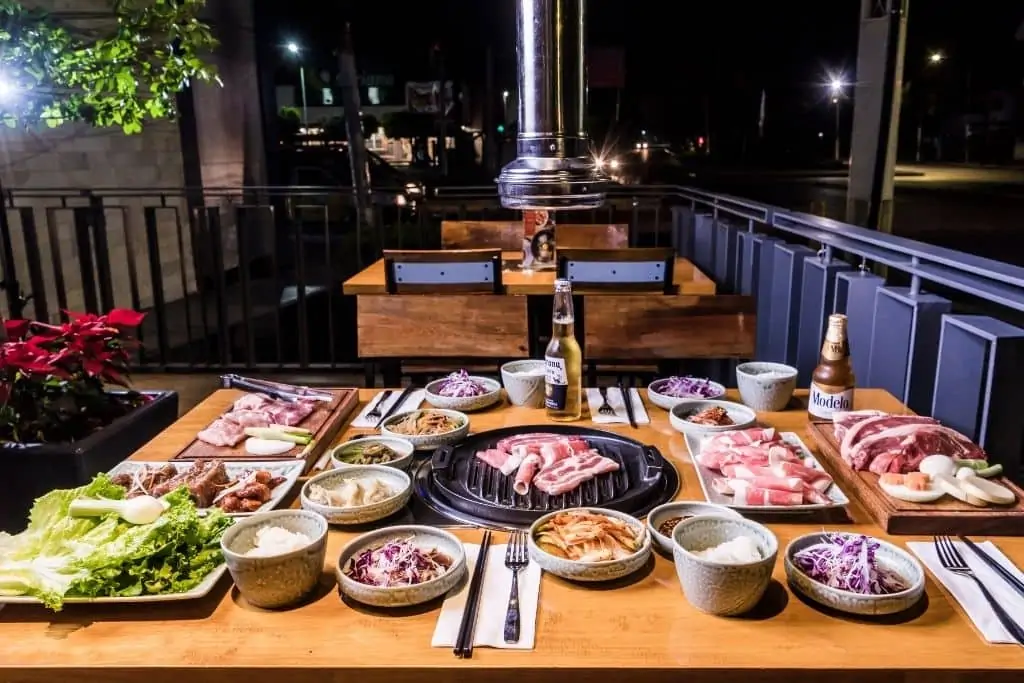 Don't Rely on Hotel Food Only.
While traveling with a baby or child, I recommend bringing some of their nutritional favorites. This will make mealtimes much easier and less stressful for all parties involved, and it might even spare your kid from getting sick.
Be prepared that hotel food could be different from what they are used to, and sometimes it might not be the healthiest option. Don't let your kids go crazy with the food they are unfamiliar with. It could make them spend more time in the bathroom than in bed 🙂
How to Deal With Diapers?
Always bring along plenty of diapers. Then, you can either buy them at your destination or pack them in your checked luggage.
But this is only half of the battle; you have to think about disposal.
Unpleasant smells of used diapers in an enclosed space are a big stinking problem, trust me. However, suppose the hotel also has ventilation problems, and the windows don't open. In that case, you can imagine how this problem becomes doubly awful.
But there is an elegant solution.
Please, have a couple of plastic zip-lock bags for this and use ice! If you're traveling to a warm place, the ice will take care of the smell (at least reduce it).
Check to see if there is a diaper disposal policy at your hotel before leaving. Don't leave diapers in the regular trash bin overnight. Just don't do it! 😉
Solution for Changing Table
Almost every hotel room has a regular desk. Unless you have some business at the desk, this surface can easily be turned into a changing table. Remove any objects on top of the desk, place a changing pad on top, and you're good to go!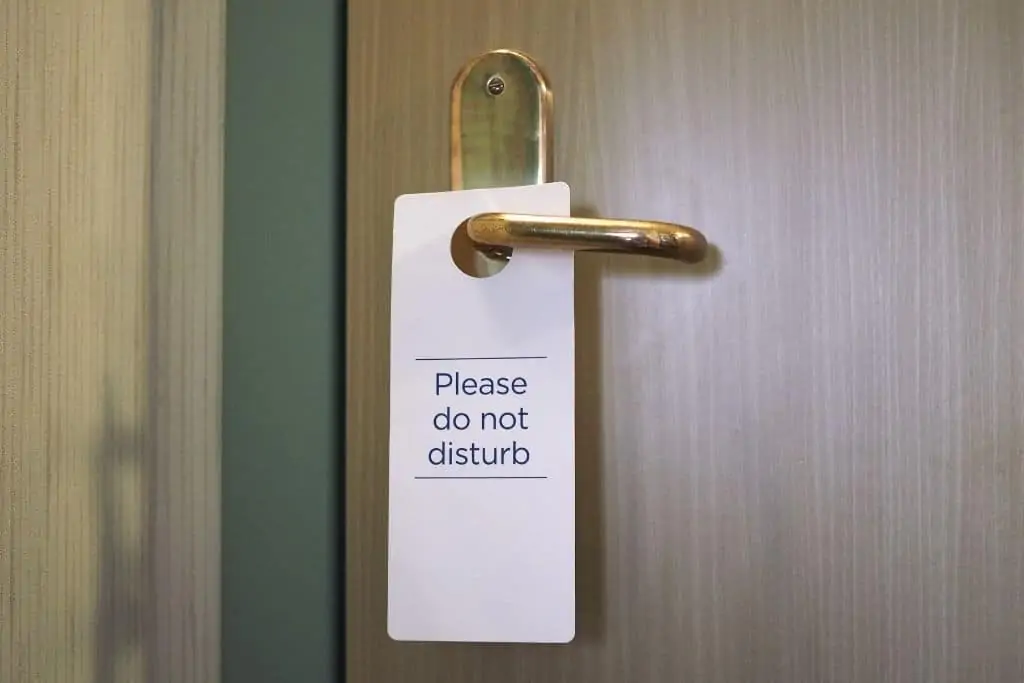 Organize a Quiet and Comfortable Area
Here are several factors to consider: noise, light, location, toys. Unfortunately, the hotel room may not have a perfect solution for them. So here is what I do:
Put a sheet over the table and place your baby in her travel crib on top of it. Add some pillows around, and you have a comfy little quiet spot for just about any time of the day, whether it's playtime or nap time.
Dark is very essential for kids for a night of healthy sleep. Usually, hotels have black-lit curtains, so close them as much as possible to get the room as dark as possible.
Bring along some noise-canceling headphones for your kids if noise is a problem. Never forget about the night in New York City. Noise 24/7, even in a supposedly quiet hotel room.
Bring your child's favorite toys and books for them to enjoy.
Try to reserve a quiet room in the corner where you will not hear doors slamming and elevator noise. Try to book a faraway room (and preferably on the opposite side) from an ice machine or vending machine. Again, talk to the hotel management before making a booking, and clarify your specific needs.
Conclusion
Hotels can be a great place to stay with kids, but it's essential to do your research ahead of time and be prepared for anything. With a little bit of planning and improvisation, you can make your trip much easier and more enjoyable for everyone!
Thank you for reading!
I hope these tips will be helpful for your next family vacation 🙂